You need to put your bins, boxes and bags on your property boundary by 7am on the morning of your collection day.
If you live in a flat, you should have communal bins for non-recycling and recycling which we collect. We do not collect food waste from flat blocks.
We make collections every week. One week we collect non-recycling, the next week will be recycling. We collect food waste every week.
Extra waste
We will collect extra recycling. You need to put this in untied bags, that can be any colour except black or purple (as we could confuse this with non-recycling). Put the bags next to your full recycling wheelie bin or box.
We will not collect any extra non-recycling - we will only empty what is in the non-recycling wheelie bin with the lid shut. If you don't have a wheelie bin, we will only the purple sacks provided by Harlow Council for non-recycling.
If you regularly have extra non-recycling you can look at our other waste options or you can make a request for extra capacity, which our Waste team will review.
Hangers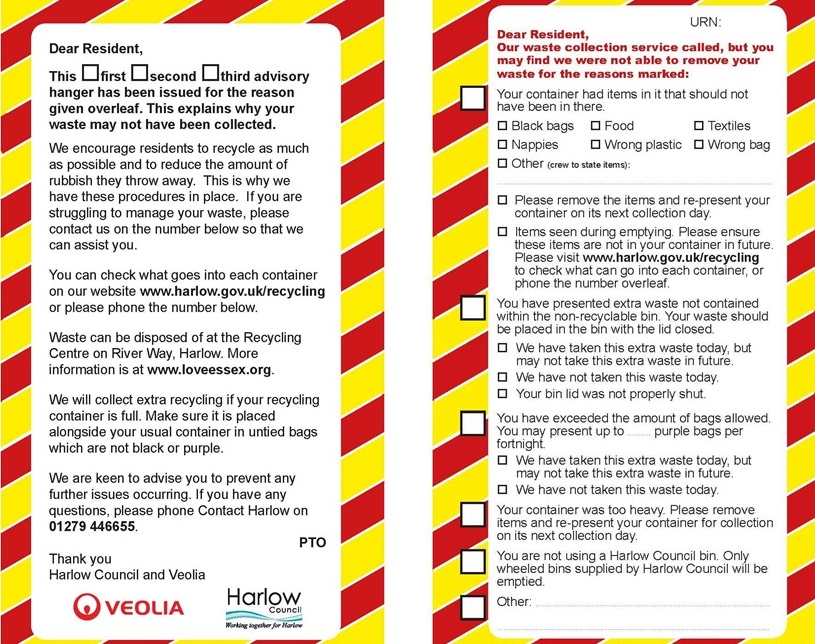 We will not collect your recycling and rubbish if you have:
used the wrong bin, box or sack for your items
put out the wrong bins for collection day
not put out your bins by 7am
overfilled your bin, and the lid does not fully close
If you have not used the system correctly, we will put an advisory hanger on your bin. You will need to follow the instructions on the hanger to avoid any future problems with your collections.
Contact information
Office
Waste team
Harlow Council
Civic Centre
The Water Gardens
Harlow
Essex
CM20 1WG