Contents: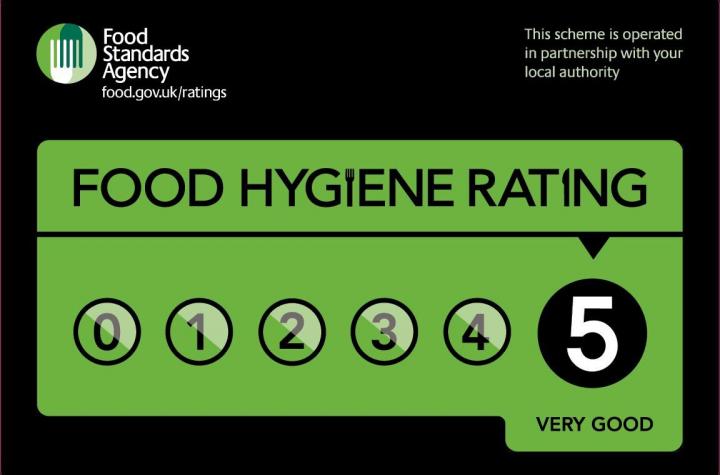 We carry out food hygiene inspections to make sure food is handled and prepared safely.
We use the Food Standard Agency's food hygiene rating scheme to give businesses a rating from 5 (very good) to 0 (urgent improvement necessary).
Not all businesses that sell food get a rating. Some businesses, like a newsagent selling sweets, are not included in the scheme as they are a low risk to people's health.
We give ratings to premises including:
restaurants and takeaways
cafes
pubs
hotels
schools
hospitals
residential care homes
supermarkets
delis and bakers shops
The food hygiene rating we give your business will reflect:
how hygienically you handle food, including how you prepare and cook it
the condition of your premises' structure, including the cleanliness and ventilation
how your business manages and records what you do to make sure food is safe
After the inspection, we will:
leave a summary report of our inspection
issue your food hygiene rating, which the Food Standards Agency will then publish
issue you with a window sticker which you can use to display your rating
If your business's hygiene standards need improvement, we will tell you in writing what improvements you need to make.
You will have to make the improvements in a reasonable amount of time and we will revisit to make sure you've carried out the work.
If your standards break the law, we may serve a 'hygiene improvement notice' which sets out what steps you need to take to comply with the law.
If your business's hygiene standards are very poor and we think there is an immediate risk to public health, we may have to serve an 'emergency prohibition notice'.
An emergency prohibition notice bans you from using certain processes, equipment or premises. After court proceedings, your premises would remain closed until it's safe to open again.
For more information on how we enforce food safety standards, you can read our food safety enforcement policy (pdf)
Further inspections and visits
When we carry out your first inspection, we will give your business a risk rating, which is based on a number of factors including the:
type of food you handle
number of customers you have
level of compliance
We carry out further food hygiene inspections:
based on your risk rating
if we receive a complaint about your food business
We may also visit premises to inspect and sample food for microbiological examination and to follow up on consumer complaints about food and food premises.
For more information about how and why we sample food, you can read our food sampling policy (pdf)
Our inspections are usually unannounced – we will not let you know in advance that we will be inspecting. If you operate from a private (domestic) premises, we will let you know before we carry out an inspection.