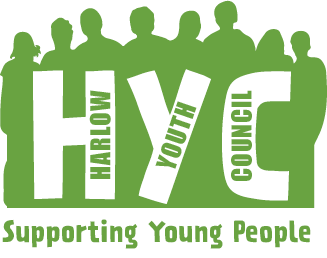 Harlow Youth Council is a locally elected group of 13- to 19-year-olds who live in or attend school in Harlow.
As a group, the Youth Council represents the views and opinions of young people in the town.
All young people can have their say, through their youth councillor, about issues that affect them.

Harlow Youth Council is not affiliated to any political party and is politically neutral.
Aims
The Youth Council's aims are:
To give young people in Harlow a voice in the community, at Council and public meetings and at youth and community events. A voice which will be listened to by Harlow Council, providers of services for young people and other agencies who have an interest in the views of young people.
To involve all young people, including hard-to-reach groups, in democracy through community participation, consultation and active citizenship.
To raise the profile of young people to make sure that local decision makers recognise their importance to Harlow's future.
To be listened to and taken seriously.
Elections
Elections are held each year in December.
Candidates must be 13 to 19 years old.
Elections are held town-wide in all secondary schools, support schools, and in some youth groups.
The election process is open to all young people aged 13 to 19 who are Harlow residents or attend school in Harlow.
Elected youth councillors stand for 2 years and can re-stand after 2 years if they are under 20 years of age.
If you are interested in becoming a youth councillor, complete our youth councillor application form (pdf)
Meetings
Full Youth Council meetings are open to the public and are held on the first working Monday of each month.
The Youth Council offers specific dates throughout its calendar for consultation with, and presentations from, other agencies and organisations.
Meetings are held at Harlow Council's Civic Centre.
Meeting agendas are available on the evening. For advance agendas email our Youth Council Support Officer, Sandrine Munyakazi sandrine.munyakazi@harlow.gov.uk
Work
The Youth Council's current priorities are:
promote positive physical and mental health and wellbeing for children and young people
protecting the environment and supporting the climate change agenda
The Youth Council have produced resources to support young people and raise awareness of current issues:
Attend meetings - y

ou will be expected to attend meetings every two weeks, occasional Harlow Council meetings, and a variety of other community meetings and events

.
Collect information about young people in Harlow, from:

young people themselves
Harlow Council and Essex County Council
surveys and questionnaires

Listen to young people from Harlow about issues that affect them - you must be prepared to feed this information to the Youth Council meetings who will then pass the information onto the adult Councillors for their consideration and action if appropriate. You will not be expected to solve problems or issues, but you can report them.
Represent young people's views – your views are important, but you will also have to put across the views of other young people in the town – even if you don't agree with them.
Ensure the representation of excluded young people: Not all young people are able to put their views across very well. They could have a disability, they could have problems with the English language, or they may simply find talking to groups of people very difficult. It's your job to speak for them.
Take part in training - accredited training is available if a Youth Councillor wishes to register and complete the course work and attend the training sessions
Liaise with established local youth groups and develop networks with groups outside the town, such as other youth councils.
To act responsibly when representing the Youth Council and adhere to the Youth Council Code of Conduct at all times
Not to be afraid to ask for help, support and advice if needed.
To have a sense of humour!